wizz wrote:Is it best to have either the cheap motion pro or pricey racetech oil level tool or are there other ways to check oil level?
You can get by with a mm ruler and a small turkey baster if you have nothing else on hand.
You simply need something to measure the oil level from the top of the fork to the oil ... and something to suck out the excess oil.
That being said ... the "tools made for the job" are *much* easier to use and more accurate.
My favorite is the Motion Pro tool. It's also carried by a lot of motorcycle dealers on online places (Bike Bandit, Rocky Mountain ATV, Motorcycle Superstore, CycleBuy.com, etc.):
Motion Pro Fork Oil Level Tool
$22.99
http://www.motionpro.com/motorcycle/partno/08-0121/
• For checking and adjusting the oil level on all conventional and single chamber cartridge forks
• Adjustable ring will measure oil levels from 0 to 300mm in 0.5cm increments
• Syringe has a capacity of 60ml
• Can be used on bicycles equipped with front suspension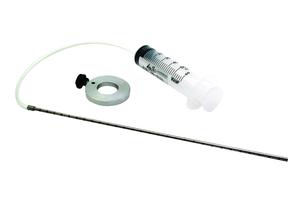 Hope that helps! - E-Ticket